Prepare to celebrate Mass by looking ahead to the readings for the celebration. The same USCCB site also has a complete listing of the Books of the Bible with introductions.
Readings for Mass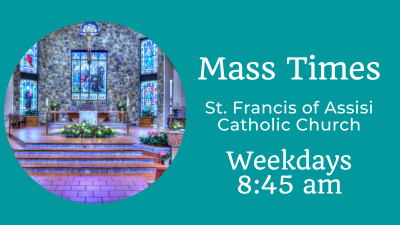 Worship with Us!
Saturday Vigil – 5:30 pm
Sunday – 8:00, 9:30 & 11:00 am
5:30 pm
Domingo -12:30 pm.
Sacrament of Reconciliation
Saturday – 4:00 pm
English and Spanish
also by appointment
Assumption of Mary – Aug 15th
All Saints – Nov 1st
Immaculate Conception – Dec 8th
Nativity/Christmas – Dec 25th
Mary, Mother of God – Jan 1st
The Ascension (Sunday celebration)
Please note: Our inclement weather policy is to follow the Prince William County Schools announcement for both school and church activities. The Parish Offices are closed when the Quantico Marine Corps Base issues a Code Red for its employees. Daily Mass, Weekend Masses, and Penance Services will be celebrated regardless of the weather; however, parishioners should use their best judgement regarding traveling in order to attend Mass. Always check the front page of the website for updated information or sign up for Flocknote our parish text message system for instant communications.