The St. Francis of Assisi 55+ Ministry encourages community building through small group meetings, social activities and service projects. There are no formal meetings, so participation can be as broad or limited as someone chooses. Feel free to attend any or all of the events scheduled throughout the year. If an event requires payment or registration, instructions will be advertised in the bulletin and e-newsletter.
Small Faith Group Study – Oremus: A Guide to Catholic Prayer
Please join us for an 8-week study on Tuesdays, beginning September 25th through November 13th from 9:30 a.m. – 11:00 a.m. in the St. Catherine Room. Discover ways to communicate with God and how God communicates with you. Registration for the study is through Ascension Press.  Visit https://ascensionpress.com/studies/29759/registrations/new to purchase your workbook and bring it to the first session.
Dinner and Symphony Social
Our 55+ Ministry invites you to enjoy an evening out on Saturday, October 27th, beginning with dinner as a group at Bella Vita Restaurant in Manassas at 4:30 p.m., followed by a performance from the Manassas Symphony Orchestra at 7:30 p.m. Symphony tickets must be purchased on your own through http://www.manassassymphony.org/ and the performance will take place in the Hylton Performing Arts Center in Manassas, near George Mason. Please reserve your seat for the group dinner in advance by contacting Pat Koch [email protected] or 609-217-3491.
Christmas Gift Bags for Nursing Home
Volunteers from our 55+ community are needed to create gift bags for the residents of Envoy nursing home and senior clients of St. Francis House. Please join us in the Knights Hall, located in the basement of the Parish Center, immediately following the 8:45 a.m. Mass on Tuesday, December 18th. We will use items donated by the parish during the Un-Trim-A-Tree drive. It is helpful, but not mandatory, to RSVP to Lisa Ostendorf for planning purposes. Thank you for your help!
Museum of the Bible and Lincoln Cottage Tour
Bluebird Tours is organizing a tour of interest to the 55+ Ministry. The Museum of the Bible is described as the most technologically advanced museum in the world, providing guests  with an immersive and personalized experience as they explore the history, narrative and impact of the Bible. There will be a docent-led overview of the 8 floor museum, and there is a cafeteria for lunch on your own. Another stop on the tour is President Lincoln's Cottage, described as an historic site where Abraham Lincoln lived and worked to develop the Emancipation Proclamation. You must reserve your space on the tour directly through Bluebird Tours by calling 703-339-0333. The cost is $65 per person. The bus will depart at 9:00 a.m. on Friday, January 11th from the Featherstone Shopping Center in Woodbridge, located at 14527 Jefferson Davis Highway in Woodbridge. The anticipated return time is 5:15 p.m.
Lenten Small Faith Group for 55+ Ministry
Content for this study is to be determined. Lenten small faith groups are formed annually throughout the parish and are the largest adult faith activity every year. The 55+ community has the option to gather on Tuesdays from 9:30 a.m. – 11:00 a.m. in the St. Catherine Room for group discussion. The first group gathering will be Tuesday, March 12th. More specific information will follow regarding content and how to purchase materials.
Summer Kits for Bill Mehr Drop-in Center
Volunteers from our 55+ community are needed to create summer homeless shelter kits for the clients of the Bill Mehr Drop-in Center. Please join us in the St. Catherine Room immediately following the 8:45 a.m. Mass on Monday, March 25th. We will use items donated by the parish. It is helpful, but not mandatory, to RSVP to Lisa Ostendorf for planning purposes. Thank you for your help!
Ancient Order of Hibernians
The Ancient Order of Hibernians (AOH) is the oldest Catholic lay organization in America. It was officially formed in New York in 1836. Today they stand, not only as the oldest Catholic Lay organization in America, but as the largest Irish society in the world with Divisions in Ireland, and 49 of the 50 United States.
The AOH in America is partitioned into Divisions, County Boards, and State Boards, and is governed by a National Board elected every two years. The Division is the basic unit in the Order, and membership in a Division is membership in the Order. Even County, State, and National Officers, maintain membership in a local Division. Annual dances, concerts, and parades sponsored by all levels of the Order raise millions for charity, while providing a showcase for the positive contributions of the Irish to every walk of American life. Divisions usually support local charities within their geographic areas, while sending a portion of their monies to higher levels for support of state, national, and international charities. Subcommittees are often established to perform specific functions such as the administration of an annual Feis or Festival, the raising of a historic memorial, or providing instructions in such Irish subjects as history, bagpiping, dancing, and language.
The many Divisions and Hibernian Halls across the country have also traditionally provided a welcome for new immigrants. Here, the unique art, dance, music, and other interests of the Irish are fostered and preserved, making the AOH Hall a home away from home for many. Together, they are at the forefront of support for issues concerning the Irish, such as Emigration Reform, MacBride Legislation, and the Right to Life. They never forget their ancestral homeland either, and can always be found actively lobbying for, praying for, and working for the total independence of a united 32-county Ireland, as their constitution avows: "by all means constitutional and lawful."
For more information, visit the Ancient Order of Hibernians website or contact Tom Kelley (703-217-2554 or [email protected]) to learn more!
The Ancient Order of Hibernians is agains sponsoring the annual St. Patrick's Day coloring content. See their website for awards and context rules.
The Columbiettes, an organization of Catholic women dedicated to our Patronesses, Blessed Virgin Mary, St. Theresa the Little Flower and St. Joan of Arc, are comprised of affiliated Auxiliaries of the Knights of Columbus Councils.
Our purpose is to:
Promote the spiritual, social and charitable welfare of our members
To instill a steadfast conviction relating to the proper place and function of Catholic women in safeguarding the religious, civil and economic rights of all Catholics
To rely upon the intercession of Mary, our Mother and Model, for guidance in guarding the common good, and to work through her, on loving and aiding all members of the human family and to give assistance to the Knights of Columbus in all their activities upon request.
For more information, contact Sue Cipparone ([email protected], 703-580-6406).
The Knights of Columbus is a fraternal service organization of practicing Catholic gentlemen dedicated to supporting our clergy, church, community and country. The organization is founded on the principles of charity, unity, fraternity, patriotism and defense of the church.
We offer self-fulfillment through donation of time and talents wherever needed and wholesome fellowship with congenial companions who share the same beliefs and duty to God. The Knights meet the 2nd and 4th Thursdays of the month at 7:30 p.m. in the Knight's Hall in the Parish Center. Some specific volunteer opportunities are: food preparation and service at parish, holiday food baskets for the needy, support of the Women's shelter, collection of funds to assist persons with intellectual disabilities, sale of fireworks, wheelchair ramps, family activities, youth activities, vocations, and support of many parish events. Join the Knights for the experience of a lifetime.
For more information, please contact our Grand Knight, Steven Matias or visit the Knights of Columbus website.
Ladies Ancient Order of Hibernians
The Ladies Ancient Order of Hibernians is a sisterhood of Irish and Irish-American Catholic Women. The Ladies AOH has changed in many ways over the decades but still we hold true to our mtto of "Friendship, Unity and Christian Charity." We are pledged to God and Country. The primary purpose of the Ladies AOH was to protect young immigrant Irish girls coming to the United States, to assist them in securing employment, to give them the opportunity to be with their own kind, and to keep them from becoming homesick and discouraged. The Ladies also foster the ideals and perpetuate the history and traditions of the Irish people and promote Irish culture. Our Patron Saint is Saint Brigid of Ireland.
For more info on the Ladies AOH, please contact Collette White ([email protected]).
Student Irish History Writing Contest
Middle and High School students are invited to submit an essay for entry into a national contest. Cash prizes will be awarded! The deadline for entry is November 15, 2017. Please click on the link below to download the brochure.
The Men's Group meets once a month from September to June. This is an opportunity for the men of the parish to meet regularly, learn about our faith, and discuss issues which are faced in our daily lives as Catholics.
The next meeting for the Men's Group will be held on Tuesday, April 10th at 7:30 p.m. in the Br. Juniper Room. The topic will be a video presentation on the "Marks of A True Christian Man", given by Fr. Mike Schmitz.
All men of the parish are welcome. For more information, call (
703-221-4044
.
The parish's Secular Franciscan community seeks men and women to pattern their lives after Christ in the spirit of St. Francis. We believe that as human beings and as Christians, we have a sublime vocation that we cannot fulfill alone. We subscribe to a common response to the Gospel, working together in community toward a deep evangelical life and toward communion with all people.
The Secular Franciscans meet on the second Saturday of every month; we also go retreat together, work together, and minister together. This includes praying, learning, sharing, and living the Gospel with others.
For more information, contact Gary Burton, OFS, (571-377-9005 or [email protected]).
To stay updated about what we do, please visit the Secular Franciscans St. Francis Of Assisi Catholic Church website!
Women's Group has evolved over the years from a mom's group to include women of all ages and different stages of life, which makes for wonderful conversation and camaraderie. Childcare is offered for a small, additional fee to allow mothers with small children to fully participate. The ladies meet once or twice per month on Thursday mornings, from 9:30 am – 10:30 am for socialization, prayer and discussion based upon a selected spiritual book. 
Registration for Women's Group is $20 for the year, plus an additional fee of $20 if you need childcare.
New members are always welcome!  Please contact Melissa Morgan for more information and the meeting schedule.
Women's Group Resources
The 99 is an invitation to examine your life of faith, beginning with where you are right now. Drawing on more than twenty years of ministry experience, author Mark Hart invites us to face the issues that are necessary for living a fulfilling life within the flock of Jesus, the Good Shepherd. With doses of humor and easy-to-read style, The 99 Handbook makes the case that a life of faith—a personal relationship with Jesus—is necessary, reasonable, and rewarding. It also shows that evangelization is an essential calling of every Christian.
So these sessions are for both the ninety-nine and the one. It is about being lost and being found … and then seeking more. It is about our relationship with Jesus and re-engaging with who Jesus is. It ultimately asks, "Do I believe Jesus makes a difference in my life? If so, how do I live this difference and share it?"
https://www.youtube.com/watch?v=ir59SpuRDYU&feature=youtu.be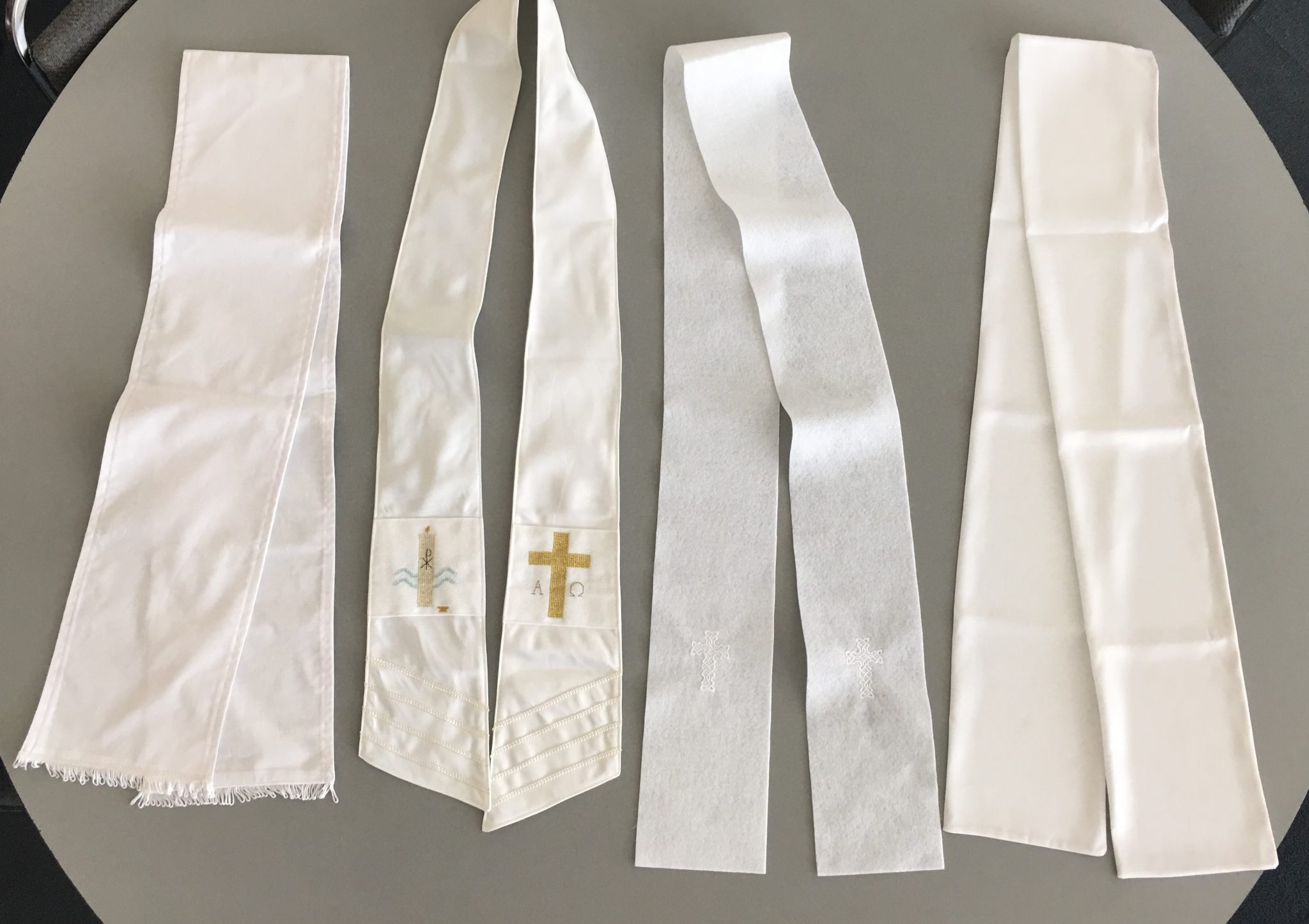 The Craft Ministry meets the third Thursday of every month at 6:30 p.m. in the 5th Grade Classroom, from September – May. Please join us if you are interested in sewing, knitting, quilting, or crocheting, etc. to help spread God's love and comfort to those in need. All adults are welcome.
The Craft Ministry provides adult and childrens' baptismal stoles in unique, beautiful designs. Members have also created prayer shawls, altar decor and other projects as needs arise.